Part 15 radio 105.9 FM, The Vibe FM and Vibe Country 1640 AM!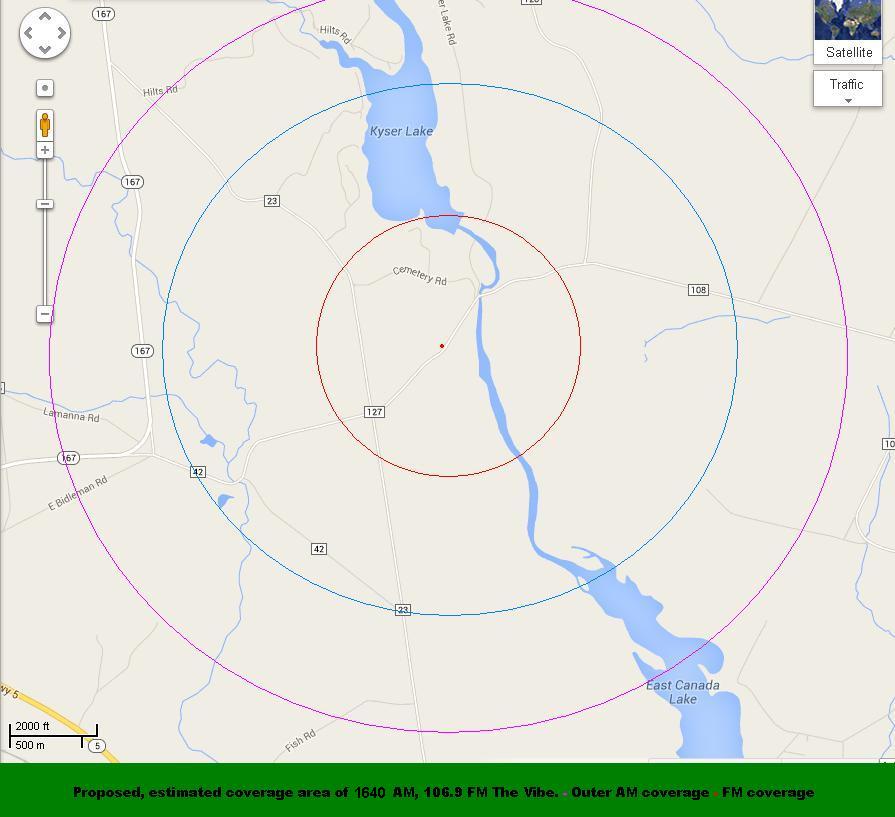 Welcome to 105.9 FM, 67khz SCA of 104.3 Utica NY The Vibe!
The FCC allows for non-licensed broadcasting so as long as FM's do not exceed 250uV per meter at 3 meters from the antenna and AM's are limited to 100 milliwatts with an antenna and ground lead to not exceed a total length of 3 meters.

Stations of this nature can be commerical or non-commerical in nature. The coverage map indicates the maximum distance that these signal will be heard. The FM signal will be within the red circle. Even though the signal strength is limited to 250uV at 3 meters from the antenna, the elevation at this location will allow the signal to travel unusally farther than normal low elevated setups.

The AM signal could possibly extend out as far as the purple circle during the day and within the red and blue circles at night.

 

 

Our internet streams, High audio quality AAC+ 80kbps and lower quality 32kbps MP3 streams allow us to reach a world audience. If you are a song writer/producer/singer looking for air play,

 

contact us via our contact page with a link to your demo for possible consideration for airplay. Your request must also be accompanied by written permission to give us rights to air your work.

Check back here for updates!

 

 

----------------------------------------------------------------------

 

Listen to 105.9 FM,

67khz SCA of 104.3 Utica NY, The Vibe FM

!


Our higher quality AAC+ audio stream, that can be played in an external player can be streamed from here --->TheVibeFM AAC+ stream

----> Vibe Country AAC+ Stream
 

Terms of Service  Privacy Statement   "HOME PAGE"
Updated 11/29/17, Web streams may -NOT- be rebroadcast without permission. All other on page content ©1999-2017, All rights reserved MidAtlantic Engineering Service / The Vibe FM based in Little Falls NY.

Live web stream Agreement....
You agree that you will not link directly to any of the live video and audio feeds hosted on thevibefm.net. If you would like to link to any of the web streams, Please contact us via our "Contact Us" page.
The web streams found On This site are Broadcasted From This Website or is our content hosted from a partnered server, they are private streams and are intended for private use only.
By listening to and viewing the information on the the streams on this site you are agreeing to use it for entertainment purposes only.
MidAtlantic Engineering Service will not be held liable for objectionable content seen or heard via any of our streams. These broadcast are live and anything can and will happen.
Rebroadcasting the feeds, or making accessible via a paid or subscription site or service is strictly forbidden.