Part 15 radio WVIB-DB 105.9 FM, The Vibe FM
                                                                 and
                               WVIC-DB Vibe Country 850 AM, 106.9 FM!
   You're now hearing "broadcasting from the Don UpChurch Studio's" on Vibe Country. You might be wondering what all that is   
   about. Well you are in the right place to get the skinny on that. We the owners of this radio station, Vibe Country used to work
   with a fellow named Don UpChurch. Don was with a country radio station, WQDK 99.3 Gatesville/Ahoskie NC. Don was the back
   bone of the radio station and the area that the station served. Don lost his battle with cancer in 2015. The station was sold to
   another owner before Don passed. The new owners moved the studios out of its orignal studio and building before he passed.
  Don had a big part in designing the new studio, but never got a chance to use it. So the new owners named the studio after him.
     The station had been sold again and this time the new owner passed from COVID in Dec of 2021. The stations ownership
  reverted/was sold back to the owner that previously owned the station. Nearly 6 months later a religous broadcaster bought the
 station. Once the FCC approval gives the ok to the sale, WQDK will no longer be country formated and owned/operated locally.
                   We here at Vibe Country have decided to name our studios in honor of our friend/colegue Don UpChurch.
                                    Don was working on a book, researching what happen to the Lost Colony, his book...
                                       "In Pursuit of Dorothie The Lost Colony Ship" Paperback, available on Amazon.
                                         https://www.amazon.com/Pursuit-Dorothie-Lost-Colony-Ship/dp/0692137610

          This radio station, Vibe Country is modeled after a few country stations from the 1980's.minus having any on air talent.
  Those stations being WQDK Q-Country 99.3 Ahoskie NC, 96 KIX WKJX 96.7 Elizabeth City NC, Country 56 WGAI Elizabeth City
    NC and lastly the mother ship of all country music stations, a station that all country music radio stations modeled their formats 
                      after, WCMS-FM 100.5 / AM 1050 Norfolk Va. ( WCMS Joe Hoppel aircheck from the middle 80's
                                         https://digi.countrymusichalloffame.org/digital/collection/musicaudio/id/7688 )

    We hate what corporate radio has done to these legendary country radio stations. We hate what radio has become in general.
It is our hope that, even though we do not have any DJ's, we hope that you find this station resembling something from a wonderful
           time in radio, where we hope the spirit of the listed radio stations above continue to live on in some form or fashion.
                                      Below is information pertaining to our stations regarding our extreme low power,
                                         FCC Part 15 license by rule operation and the internet side of the operation.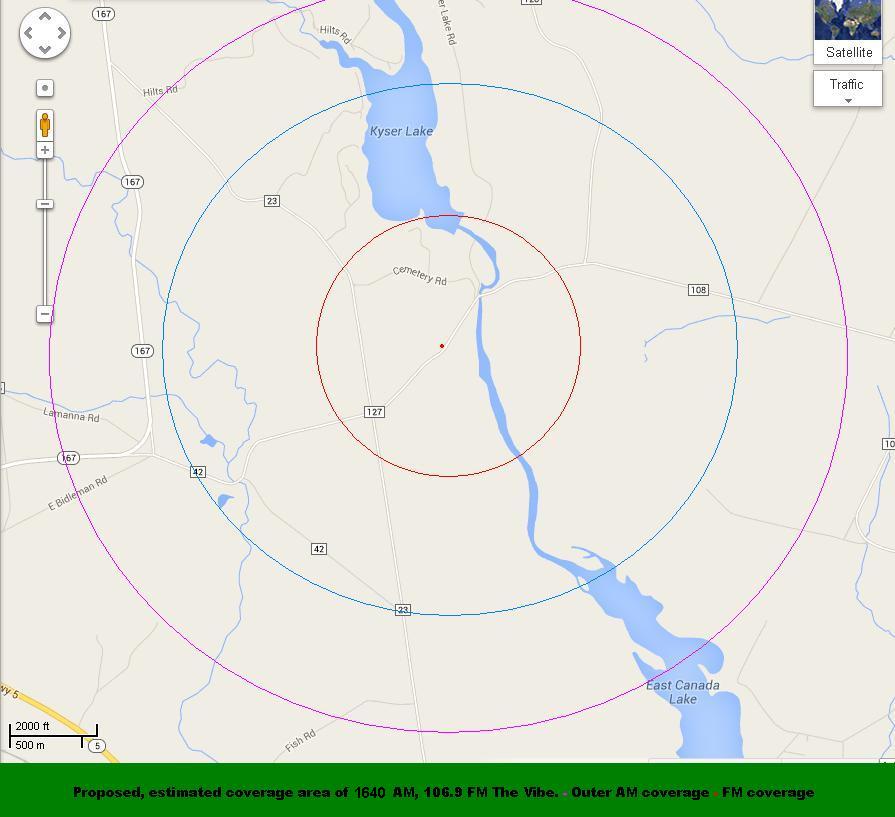 Welcome to WVIB-DB 105.9 FM, The Vibe! &

WVIC-DB Vibe Country 850 AM Stereo, 106.9 FM,!


The FCC allows for non-licensed broadcasting so as long as FM's do not exceed 250uV per meter at 3 meters (9.84252) from the antenna and AM's are limited to 100 milliwatts with an antenna and ground lead to not exceed a total length of 3 meters (9.84252) .

 

Carrier current systems and transmitters employing a leaky coaxial cable as the radiating antenna may operate in the band 525-1705 kHz provided the field strength levels of the radiated emissions do not exceed 15 uV/m, as measured at a distance of 47,715/(frequency in kHz) meters (equivalent to Lambda/2Pi) from the electric power line or the coaxial cable, respectively. The field strength levels of emissions outside this band shall not exceed the general radiated emission limits in §15.209.

Operations at 850 khz are limited to 15uV per meter at 184 feet from the line being used as the carrier current system.

 

Stations of this nature can be commerical or non-commerical in nature. The coverage map indicates the maximum distance that these signal will be heard. The FM signal will be well within the red circle. Even though the signal strength is limited to 250uV at 3 meters from the antenna, the elevation at this location will allow the signal to travel unusally farther than normal low elevated setups.

The AM signal could possibly extend out along the contour of the powerlines, as far as the purple circle during the day and within the red and blue circles at night.

 

 Our station callsigns are a result from the Internet Radio Uniform Callsign,
The Standardised Streaming Radio Station Catalog System http://iruc.org

 

Our internet streams, High audio quality AAC+ 80kbps and lower quality 32kbps MP3 streams allow us to reach a world audience. If you are a song writer/producer/singer looking for air play,

 

contact us via our contact page with a link to your demo for possible consideration for airplay. Your request must also be accompanied by written permission to give us rights to air your work.

Check back here for updates!

 

 

----------------------------------------------------------------------

 

Listen to 105.9 FM,

The Vibe FM

!

Listen to 106.9 FM, 850 AM, Vibe Country!

Coming soon, a third station, a "JACK-FM" type station. Check back here soon!

Listen to us online at one of our four streams:

OUR STREAMING LINKS HAVE CHANGED! UPDATE YOUR BOOKMARKS!:

WVIB-DB The Vibe FM AAC+ stream at

192kbps AAC+ stream

 

Now on Roku!

Log onto your account and then go to this URL to begin listening on your Roku device:

The links should open your favorite media player such as Winamp, VLC, Windows Media Player etc etc.

 
Follow us on Facebook!
https://www.facebook.com/VibeFM.VibeCountry/
Follow us on Facebook!
https://www.facebook.com/groups/VibeFM.VibeCountry/
Follow us on Twitter!
https://twitter.com/The_Vibe_FM/
Support this station with your monthly donations. Your support keeps our servers, equipment online.
With enough support, we'll even start adding shows to our current stations and then add more stations!
Click here to show your support of The Vibe FM and Vibe Country! --> Support The Vibe FM and Vibe Country
 

Terms of Service  Privacy Statement   "HOME PAGE"
Updated 10/31/19, Web streams may -NOT- be rebroadcast without permission. All other on page content ©1999-2021, All rights reserved MidAtlantic-Engineering-Service L.L.C. / The Vibe FM based in Little Falls NY.

Live web stream Agreement....
You agree that you will not link directly to any of the live video and audio feeds hosted on thevibefm.net. If you would like to link to any of the web streams, Please contact us via our "Contact Us" page.
The web streams found On This site are Broadcasted From This Website or is our content hosted from a partnered server, they are private streams and are intended for private use only.
By listening to and viewing the information on the the streams on this site you are agreeing to use it for entertainment purposes only.
MidAtlantic Engineering Service will not be held liable for objectionable content seen or heard via any of our streams. These broadcast are live and anything can and will happen.
Rebroadcasting the feeds, or making accessible via a paid or subscription site or service is strictly forbidden.